ENUG 2023
October 12-13, 2023
Van Pelt Library
University of Pennsylvania
Philadelphia, PA (map)
More information coming soon!
---
Keynote
"Game of Loans: A Brief History of the Future of Resource Sharing"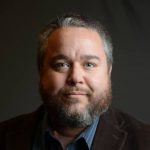 Tom Bruno, Director of Access Services, University of Pennsylvania
Resource Sharing is at a crossroads. While libraries increasingly depend on resource sharing to complement their collections, the landscape of resource sharing services, providers, and systems has grown ever more complex and contentious. From open source platforms to closed proprietary walled gardens, from Controlled Digital Lending to Whole Ebook ILL Lending, new paradigms for sharing library resources challenge our traditional notions of interlibrary loan as resource sharing networks which have existed for decades compete with novel ways of borrowing and lending. As this 'Game of Loans' plays out in real time, how do we avoid a zero-sum future and ensure that meeting our patrons' information needs remains paramount? And what role will Artificial Intelligence play in this rapid evolution of resource sharing services? Join speaker Tom Bruno for an investigation of how we ended up here and where we might be headed.
---
Registration
Early Bird Registration (Through 9/29/2023)- $100
Regular Registration (After 9/29/2023)- $125
Presenter Registration- $75
Presenters: You will receive instructions by email on how to receive the Presenter Rate
---
Hotels
Hotel room blocks have been set aside for ENUG attendees at the following local hotels for ($199/night):
Please note: rooms in these blocks may be limited.
Sheraton University City
3549 Chestnut Street
Philadelphia, Pennsylvania 19104
Homewood Suites University City
4109 Walnut Street
Philadelphia, Pennsylvania 19104
---
Lightning Talks
If you are interesting in sharing something in our Lightning Talks session on Thursday afternoon, please fill out this form.
Questions about Lightning Talks? Contact Fernando Aguirre (la2649@nyu.edu)
---
Wednesday Night Informal Gathering
On Wednesday night, October 11th we will have an informal meetup from 6-9pm at Cira Green (Weather Permitting). There is food and drink available for purchase there.
(Please note: if it's raining this meetup will be cancelled)
---
Session Moderators
We're looking for people to serve as moderators for our sessions. If you're interested please put your name and email down under the session you'd like to moderate on this spreadsheet.
Questions about moderating a session? Contact Mary Beth Weber (mbfecko@libraries.rutgers.edu) or Jennifer Matthews (matthewsj@rowan.edu)
---
Travel
By Train
The University of Pennsylvania is near William H. Gray III 30th Street Station and accessible by Amtrak, NJ Transit, and SEPTA service.
Parking
Parking information will be sent to registered attendees before the conference
---
Covid-19 and Illness Policy
We would like all of our attendees to feel safe and comfortable at ENUG. Attendees are welcome and encouraged to wear masks and social distance at their own discretion. We ask that all attendees respect others' boundaries. We will have a way to indicate on your badges the level of comfort you have with in-person interactions or need for distance.
If you do not feel well the day of ENUG: We ask that you not attend ENUG. If you have already registered, please contact the conference chairs (enugchair@gmail.com) and we can discuss refunds on a case-by-case basis.
Unfortunately we will not be able to stream video of sessions for participants who are unable to attend due to illness. This will be a fully in-person event.