ENUG 2016
The ExLibris Northeast User Group for 2016 will be held on October 27-28 at SUNY New Paltz in New Paltz, New York.
Quick Links: Online Program Evaluation | Registration is Now Full | Payment Information | Hotel |Venue | Parking | Map and Transportation | Restaurants | Car Pooling
Conference Schedule Overview and List of Presentations
The Summary Schedule for the conference is now available, as is the list of presentations by track and the full presentation descriptions.
Hotel Information
We have a discounted block of rooms set aside at Americas Best Value Inn at New Paltz. Or you can visit the lodging information page from CUNY NEW Paltz: http://www.newpaltz.edu/visitorsguide/lodging.html
Second choice for a hotel: Econo Lodge New Paltz, 530 Main St, New Paltz, This option is more austere and utilitarian, but nearby the campus. Reservations: 844-293-6986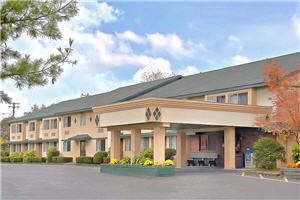 Hotel: Americas Best Value Inn
Address: 7 Terwilliger Lane
New Paltz, NY 12561 (map)
Phone: 845-255-8865
Rate: $70 + tax per night
Discount code for ENUG conference attendees is: R162610S
The hotel website includes additional information about booking, location, and amenities.
NOTE: The hotel discount is only available by calling them directly (845-255-8865) to make a reservation, not through their website, other booking systems, or agents.
Venue
Our host institution this year is SUNY New Paltz!
Check out the SUNY New Paltz Sojourner Truth library here: library.newpaltz.edu/
The Guest WIFI (SSID: NP Hawks Guest) is available for all visitors. More Details: https://support.newpaltz.edu/index.php?/Knowledgebase/Article/View/275/31/np-hawks-guest-wireless-access
Sessions will be held in the Student Union Building (SUB) pictured below.

Parking
This is the campus parking permit for ENUG. Each driver will need to print and display this in their car while parking at SUNY New Paltz.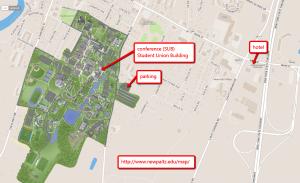 Map and Transportation
Please follow this link for information about getting to New Paltz:
http://www.newpaltz.edu/about/directions_text.html
Public Transportation from NYC to SUNY New Paltz:
Metro North to Poughkeepsie Station (Hudson Line) and then an Ulster County bus from the station to the New Paltz campus.
Here is a link to the bus schedule which shows departure/arrival time to/from Grand Central:
http://ulstercountyny.gov/sites/default/files/UPL_2.pdf

Restaurants
Staff & Students' Recommended Restaurants, Bars, Café and Eatery. They are all located on/or near Main Street, New Paltz. Can be easily located on Google Map.
Car Pooling
Please contact Kevin Collins at kevin.collins@cuny.edu if you are still need assistance to resolve your car pooling to New Paltz.